---
Flexible screen -- as soft as water
---

Nowadays, the shape of LED large screen is changeable and more creative. LED displays are common in our real life, but many of us do not know that LED displays can also be made into various shapes, such as spherical, cylindrical, and so on. This is what we want to say about HDC flexible screens. Let's first understand the flexible LED displays. At the beginning, LED displays were just used for display and advertising. With the increasing demand of the market, square and regular shapes have not been satisfied, Flexible led display came into being.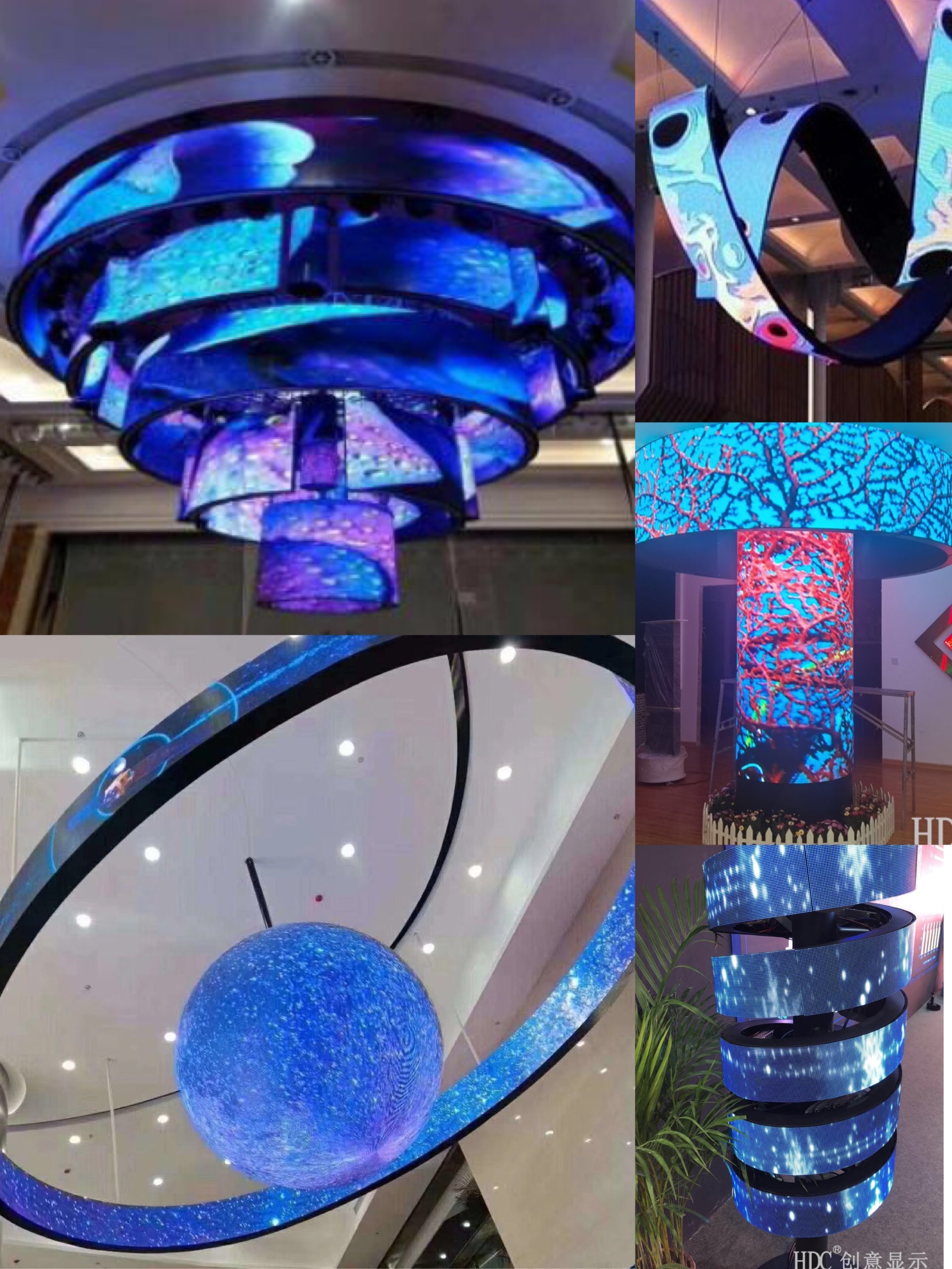 As the name implies, flexible LED display screen is soft. It can be bent arbitrarily within a certain range without affecting the display. Flexible screen refers to LED display screen that can be bent arbitrarily without being damaged. Its circuit board is made of a special flexible material and will not be broken due to bending. The ordinary LED display screen is "hard" and cannot be bent. If you can bend, you can make all kinds of shapes and shapes, such as spherical, rhombic, cylindrical, triangular, tree, ribbon, etc!
With the rapid development of the LED display industry, the production technology of the current flexible screen has matured, and various customized large LED screens can also be completed by the flexible screen, so that they are increasingly popular in the market.
So, what makes HDC flexible screen so popular in the market? What are the characteristics and advantages of HDC flexible screen soft module?
Flexible screens are easy to bend and can be installed in a variety of ways, such as floor mounting, suspension mounting, embedded mounting, and suspension mounting. They are less limited by the installation area and have a wide range of applications. They can be used to install various exquisite and creative customized LED displays. Under the increasingly demanding market requirements, LED special-shaped displays pay more attention to structural breakthroughs, and are more inclined to customers with special requirements and various occasions. However, for a long time, LED special-shaped screens were realized by assembling or edging traditional rectangular plane modules. The common LED special-shaped screens are large arc screens and flat circular screens. When the radian of the display screen is very small and the display form is more complex, it can not solve the problems of seam and flatness, resulting in inconsistent display of the display screen, mosaic and other problems, making the overall effect of the display screen poor. The flexible screen soft module (LED flexible module) has many advantages that ordinary arc display screen can't match.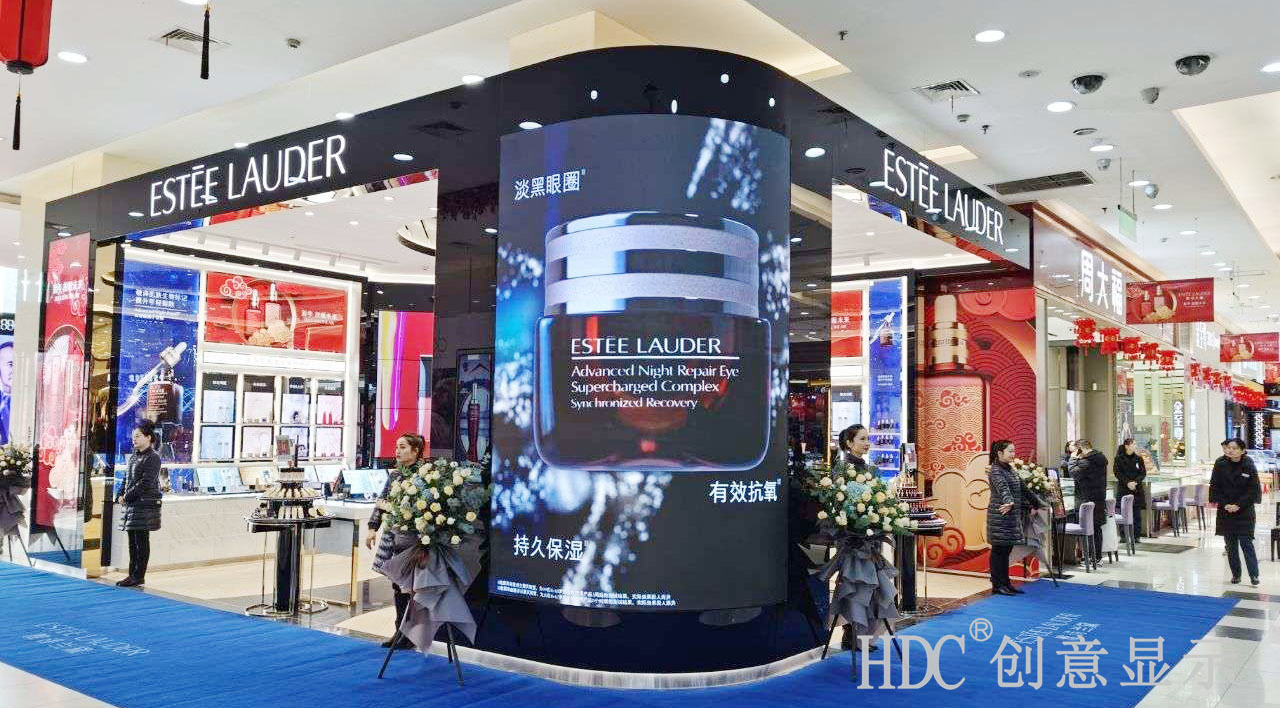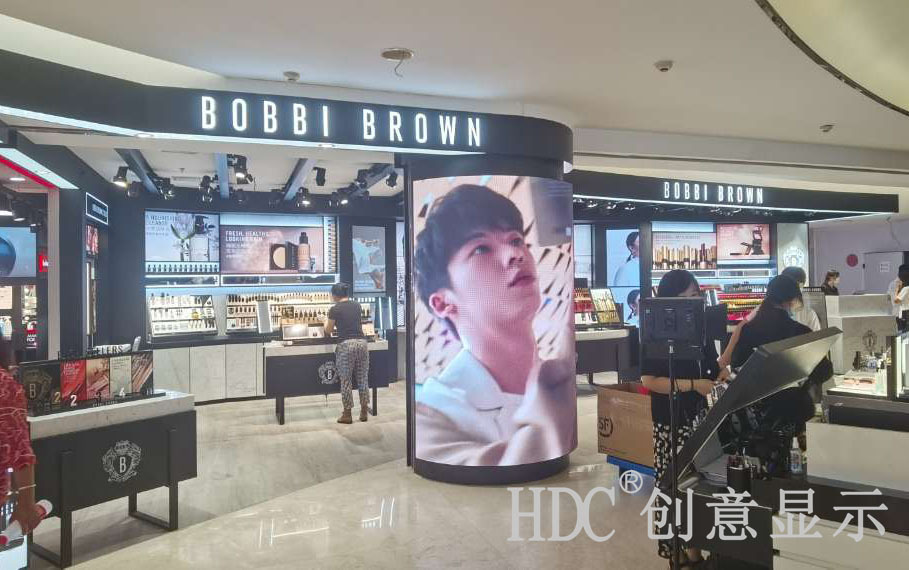 Ultra fine dot pitch of HDC flexible screen: According to the customer's requirements for image quality and cost accounting, the ultra fine dot pitch can be achieved. Even in close viewing, the clear and realistic picture quality is impeccable. Color consistency of HDC flexible screen: Through strict control of technology, all LED in rotation can ensure color consistency on the whole screen. HDC flexible screen has high resolution and high economic benefits: only one tenth of the LED of traditional LED display screen can be used, but it can present excellent fine image quality, which is higher than that of traditional TV, or even close to HDTV. The technology can effectively reduce the use of LED, save production costs, and also reduce the maintenance costs during use.
The connection surface of HDC flexible screen soft module is different from the traditional display screen. The traditional PCB board is made of glass fiber, while the flexible module is equipped with a high-strength strong magnetic core connection device. The flexible FPC circuit board is made of flexible insulating substrate. The mask and bottom shell are made of high temperature and bending resistant silicone materials, which have high strength compression and torsion resistance, It can perfectly solve the problems of various "roundabout and corner" installation difficulties. Most of the installation methods are magnetic column suction, and the installation method of "one installation is ready" is adopted, that is, first customize the shape according to customer needs, and then directly adsorb to achieve one-step installation. The installation method of the magnetic suction is as simple as that of the conventional indoor screen, and the box connecting lines are connected with quick couplers, which are firm and reliable, saving you the "force of the wilderness".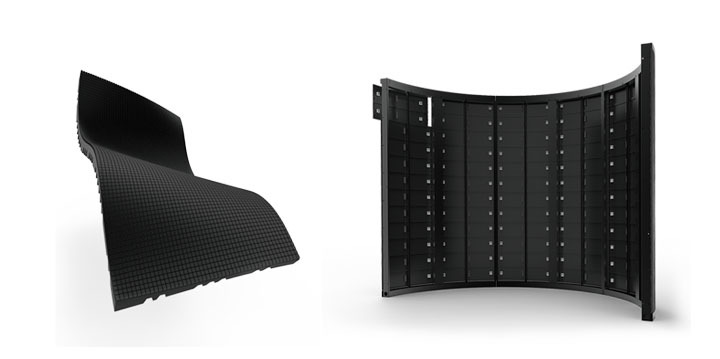 HDC flexible screen soft module has good ductility and can be shaped at will. Among them, the cylindrical screen has high brush performance and can be hoisted, mounted and hung to meet the requirements of the site to a large extent. In addition, it can ensure the high demand of various cylinder display projects. It adopts advanced digital video processing, distributed scanning technology, 360 degree high-definition display, modular design, constant current static drive, highlighted true color output, and clear images without jitter; It can also realize multi screen soft modules. By connecting to the main control computer, there are three large annular LED display screens on the appearance of the cylinder, which can synchronously play pictures. No matter you stand at any angle of the display, you can enjoy three identical and lifelike pictures. It not only expands the visual range of the product, but also integrates other video equipment with a high degree of compatibility. It is really the leader of multimedia products.